---
Homeland Security

Secure 3G/4G Communications for Secure Applications
Proxicast has provided the LAN-Cell 3G/4G router to numerous federal, state and local agencies for Homeland Security projects. From remote Nuclear, Biological & Chemical (NBC) sensors to mobile Command Vehicles, the LAN-Cell provides first responders and those monitoring the nation's internal security with an unprecedented platform for secure communications. The LAN-Cell 3 3G/4G router includes:
4 port 10/100 Ethernet Switch
Integrated 802.11 b/g/n WiFi Access Point
Ethernet WAN port for DSL, Cable, T1, etc.
3G/4G USB modem slot for cellular communications (CDMA or GSM)
Integrated IPSec VPN with DES/3DES/AES encryption (25 tunnels)
Firewall with NAT, Port-Forwarding & Port-Redirection
Supports LTE, HSPA+, EVDO, 1xRTT, HSPUA, HSDPA, UMTS, EDGE, GPRS USB Modems
Advanced routing & system management features found only in routers costing thousands of dollars more
Temporary Internet Access
Use the LAN-Cell's 3G/4G broadband cellular data capabilities to quickly and easily provide Internet access at temporary locations such as surveillance posts, ID checkpoints, or taskforce deployments. By combining LAN, WiFi, WAN, VPN and Firewall features into a single small rugged appliance, the LAN-Cell 3G/4G router makes it simple to deploy network resources wherever they are needed, while maintaining complete control over communications security.
Mobile Internet Access
The LAN-Cell is a true 3G/4G (LTE, HSPA+) cellular mobile router and can be Integrated into command & control vehicles, disaster response vans, emergency vehicles and other mobile security deployments. Use the LAN-Cell's multiple WAN interfaces to ensure communications using any available Internet service -- wired, cellular or satellite.
Remote Internet Access
For data collection applications such as sensors, critical infrastructure protection, mass tranist and railway monitoring, the LAN-Cell delivers "always on" secure communications from all of your remote sites.
Compact & Rugged Design
The LAN-Cell 3G/4G routers small size, wide operating temperature, low power consumption, and external antenna options make it easy to integrate into existing control cabinets.
---
LAN-Cell 3G/4G Router Homeland Security Advantages
2 WAN communications options: Wired and 3G/4G (LTE, HSPA+) Cellular
All-in-one solution for LAN, WiFi, WAN & Security
Highly configurable & flexible firmware routing, security, and management features
External antenna jack supports a wide range of antennas for different applications
12VDC vehicle, solar and battery power compatbile
Compact, rugged all metal design with physical security features
Proxicast is a CCR/SBA registered small business for government procurement purposes.
---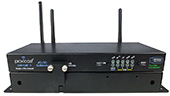 Proxicast's family of wireless and cellular products (3G routers, 4G routers, 3G/4G routers, LTE routers, HSPA+ routers, 3G modems, 4G modems, 3G/4G modems and LTE modems) utilize user accessible and upgradable high-speed 3G/ 4G cellular technology which can support all CDMA & GSM 2G, 3G, 4G cellular modem standards including LTE, HSPA+, HSPA, HSUPA, HSDPA, EDGE, GPRS, EV-DO RevA, EV-DO Rev0, 1xRTT; UMTS / W-CDMA; on all major wireless carriers worldwide including Verizon Wireless, Sprint, AT&T Mobility, T-Mobile, Rogers, Telus, Bell Mobility, Telcel, Orange, Vodafone, O2, Telstra & others. The rugged industrial-grade and ultra-capable LAN-Cell cellular router series offers wired Ethernet, wireless WiFi (802.11 a/b/g/n) and advanced enterprise mobile router features such as multiple IPSec VPN tunnels, NAT/DMZ and more. The ultra-small PocketPORT cellular modem bridge instantly connects virtually any cellular 3G/4G USB modem to any Ethernet device. Proxicast's family of wireless products (3G routers, 4G routers, 3G/4G routers, LTE routers, HSPA+ routers, 3G modems, 4G modems, 3G/4G modems and LTE modems) are optimized for corporate, financial, video surveillance, security, mobile in vehicle applications (cars,trucks, buses, trains,boats), industrial automation, solar power, public transit, Machine-to-Machine (M2M) telemetry and SCADA. Popular applications include mobile video surveillance, construction site monitoring, PLCs and industrial controls, remote device data collection, traffic control, point-of-sale (POS), ATMs, mobile WiFi hot-spots and more. Many of Proxicast's 3G, 4G, LTE and HSPA+ products are excellent alternatives or backup for Low Earth Orbit - LEO (ORBCOMM, Iridium, Globalstar) and VSAT (HughesNet, Starband) satellite network sites.
---