---
High Availability Communications

When You MUST Communicate - Use The LAN-Cell 3G/4G Router
Proxicast's LAN-Cell 3G/4G cellular routers provide flexible & redundant communications, security, and remote management services in an "all-in-one" appliance. Perfect for remote branch office deployment, the LAN-Cell 3 router Includes:
4 port 10/100 Ethernet Switch
Integrated 802.11 b/g/n WiFi Access Point
1 10/100 Ethernet WAN port for DSL, Cable, T1, etc.
3G/4G USB modem slot for cellular communications
Integrated IPSec VPN with DES/3DES/AES encryption (25 tunnels)
Firewall with NAT, Port-Forwarding & Port-Redirection
Advanced routing & system management features found only in routers costing thousands of dollars more
Supports LTE, HSPA+ , EVDO 1xRTT, HSPUA, HSDPA, UMTS, EDGE, GPRS USB Modems
Use the LAN-Cell 3G/4G router to provide a complete drop-in LAN / WAN / VPN / Firewall communications solution for remote sites. Keep communications up and running when your primary Internet service fails. The LAN-Cell can even be powered by 12VDC batteries or solar cells. Make the LAN-Cell 3G/4G router the cornerstone of your communications disaster plan.
High Availability Communications
Any of the LAN-Cell's WAN interfaces can be designated as primary, with the others serving as redundant back-up communication paths. Fail-over to the back-up interfaces and recovery to the primary WAN interface is automatic. For example, many customers use a 3G/4G broadband cellular modem in the LAN-Cell as a backup in the event that their DSL service fails. Some even add an external satellite modem to provide emergency communications if wired and cellular services are down during natural disasters.
But the LAN-Cell's high availability features go beyond just WAN interface fail-over. The integrated VPN client & server include high availability capabilities to allow the LAN-Cell to automatically make VPN connections to alternate end-points if your primary VPN concentrator is down. The LAN-Cell's Dynamic DNS feature also enables you to use a single DDNS hostname for the remote LAN-Cell regardless of which WAN interface is active.
For mission critical applications such as financial transactions, emergency response vehicles or disaster recovery sites, some customers even "piggy-back" two or more LAN-Cell's, each with connections to different wired WAN and cellular WAN carriers, allowing the LAN-Cells to determine the best available connection.
---
LAN-Cell 3G/4G Router High Availability Advantages
2 WAN communications options
Automatic fail-over & fail-back
User accessible 3G/4G USB modem
High availability features: WAN, VPN, DDNS
All-in-one solution for remote site LAN, WiFi, WAN & Security
Works on 3G/4G CDMA & GSM (HSPA/LTE) networks worldwide
---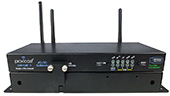 Proxicast's family of wireless and cellular products (3G routers, 4G routers, 3G/4G routers, LTE routers, HSPA+ routers, 3G modems, 4G modems, 3G/4G modems and LTE modems) utilize user accessible and upgradable high-speed 3G/ 4G cellular technology which can support all CDMA & GSM 2G, 3G, 4G cellular modem standards including LTE, HSPA+, HSPA, HSUPA, HSDPA, EDGE, GPRS, EV-DO RevA, EV-DO Rev0, 1xRTT; UMTS / W-CDMA; on all major wireless carriers worldwide including Verizon Wireless, Sprint, AT&T Mobility, T-Mobile, Rogers, Telus, Bell Mobility, Telcel, Orange, Vodafone, O2, Telstra & others. The rugged industrial-grade and ultra-capable LAN-Cell cellular router series offers wired Ethernet, wireless WiFi (802.11 a/b/g/n) and advanced enterprise mobile router features such as multiple IPSec VPN tunnels, NAT/DMZ and more. The ultra-small PocketPORT cellular modem bridge instantly connects virtually any cellular 3G/4G USB modem to any Ethernet device. Proxicast's family of wireless products (3G routers, 4G routers, 3G/4G routers, LTE routers, HSPA+ routers, 3G modems, 4G modems, 3G/4G modems and LTE modems) are optimized for corporate, financial, video surveillance, security, mobile in vehicle applications (cars,trucks, buses, trains,boats), industrial automation, solar power, public transit, Machine-to-Machine (M2M) telemetry and SCADA. Popular applications include mobile video surveillance, construction site monitoring, PLCs and industrial controls, remote device data collection, traffic control, point-of-sale (POS), ATMs, mobile WiFi hot-spots and more. Many of Proxicast's 3G, 4G, LTE and HSPA+ products are excellent alternatives or backup for Low Earth Orbit - LEO (ORBCOMM, Iridium, Globalstar) and VSAT (HughesNet, Starband) satellite network sites.
---