---
Point-of-Sale (POS), Kiosks, Vending

3G/4G Internet Access Where You Need It
Quickly and easily provide secure communications for your remote point-of-sale, kiosk or vending equipment. Proxicast's customers use the LAN-Cell 3G/4G cellular router as their communications platform for a variety of retail transaction applications for both permanent and temporary installations including:
Temporary Cash Registers
Mobile Post Offices
Lottery Ticket Machines
Information Kiosks

Ticket Vending at Recreation Areas
New Store Openings
Vending Machines
Backup Communications
Secure Communications for Financial Transactions
The Proxicast LAN-Cell 3G/4G router offers the most security options of any cellular communications product on the market. Securely link to your remote devices over the public Internet using the LAN-Cell's built-in state-of-the-art security features.

Unlike simple cellular modems that provide Internet access but leave your equipment and communications unprotected, the LAN-Cell integrates a 3G/4G (LTE, HSPA+) cellular modem with full IPSec VPN end-point capabilities and advanced routing features. The LAN-Cell 3 supports up to 25 simultaneous IPSec VPN tunnels so you can securely communicate with your credit card processor and corporate "back-end" systems.

All communications with the LAN-Cell (including device management) can be fully protected using DES/3DES/AES encryption. You can restrict access to the LAN, VPN or LAN-Cell itself based on IP address, MAC address, and/or application, thereby "locking down" communications to only authorized devices or networks.
Fast, Easy Deployment
You are not tied to a specific vendor's proprietary communications network or protocol. No need to wait for or pay for communications lines to be installed -- get your equipment connected to your financial network within minutes. You can connect multiple remote devices to each LAN-Cell, further reducing your communications costs. Deploy using any CDMA or GSM cellular network worldwide by simply inserting a compatible 3G/4G (LTE, HSPA+) modem.
The LAN-Cell 3G/4G router supports wired Ethernet and Cellular modem communications. Any of these interfaces can be designated as primary, with the others serving as redundant back-up communication paths. Fail-over to the back-up interfaces is automatic -- delivering maximum up-time for your financial transaction communications.
The LAN-Cell's small size and rugged construction allow it to be easily mounted inside of kiosk cabinets or vending machines. An external antenna jack enables you to position the antenna for maximum reception regardless of your location. Proxicast even offers several "low-profile" vandal resistant antennas ideal for stand-alone kiosk/vending machine use.
---
LAN-Cell 3G/4G Router Point-of-Sale Advantages
IPSec VPN with DES/3DES/AES encryption (25 tunnels)
Supports multiple devices simultaneously
Vandal-resistant external antenna options
Works on 3G/4G CDMA & GSM (HSPA/LTE) networks worldwide
---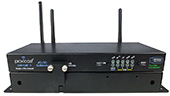 Proxicast's family of wireless and cellular products (3G routers, 4G routers, 3G/4G routers, LTE routers, HSPA+ routers, 3G modems, 4G modems, 3G/4G modems and LTE modems) utilize user accessible and upgradable high-speed 3G/ 4G cellular technology which can support all CDMA & GSM 2G, 3G, 4G cellular modem standards including LTE, HSPA+, HSPA, HSUPA, HSDPA, EDGE, GPRS, EV-DO RevA, EV-DO Rev0, 1xRTT; UMTS / W-CDMA; on all major wireless carriers worldwide including Verizon Wireless, Sprint, AT&T Mobility, T-Mobile, Rogers, Telus, Bell Mobility, Telcel, Orange, Vodafone, O2, Telstra & others. The rugged industrial-grade and ultra-capable LAN-Cell cellular router series offers wired Ethernet, wireless WiFi (802.11 a/b/g/n) and advanced enterprise mobile router features such as multiple IPSec VPN tunnels, NAT/DMZ and more. The ultra-small PocketPORT cellular modem bridge instantly connects virtually any cellular 3G/4G USB modem to any Ethernet device. Proxicast's family of wireless products (3G routers, 4G routers, 3G/4G routers, LTE routers, HSPA+ routers, 3G modems, 4G modems, 3G/4G modems and LTE modems) are optimized for corporate, financial, video surveillance, security, mobile in vehicle applications (cars,trucks, buses, trains,boats), industrial automation, solar power, public transit, Machine-to-Machine (M2M) telemetry and SCADA. Popular applications include mobile video surveillance, construction site monitoring, PLCs and industrial controls, remote device data collection, traffic control, point-of-sale (POS), ATMs, mobile WiFi hot-spots and more. Many of Proxicast's 3G, 4G, LTE and HSPA+ products are excellent alternatives or backup for Low Earth Orbit - LEO (ORBCOMM, Iridium, Globalstar) and VSAT (HughesNet, Starband) satellite network sites.
---