---
Remote Monitoring & Diagnostics

Monitor & Diagnose Remote Equipment From Anywhere
If you need to monitor and diagnose remote equipment such as factory automation, electrical substations, turbines, generators, water treatment or irrigation systems, the Proxicast LAN-Cell 3G/4G cellular router is your "drop-in" solution.
With the LAN-Cell, your remote equipment becomes securely Internet accessible anywhere there is cell phone service. Your support staff can access, monitor, diagnose and update your equipment from anywhere without going onsite. The savings from avoiding just one site visit can easily exceed your investment in the LAN-Cell.
Best of all, you can deploy the LAN-Cell 3G/4G router with no impact on the remote site's network infrastructure or security. This is especially convenient if you're monitoring equipment at your customer's sites. Gain fast, easy access to your equipment without the headaches of wiring, approvals, and equipment reconfiguration at each site.
High Availability Communications for Mission Critical Equipment
The LAN-Cell 3G/4G provides two ways to connect to your remote sites:
Wired Ethernet - DSL, Cable Modem, etc.
Cellular Modem 3G/4G (LTE, HSPA+)
Either of these interfaces can be designated as primary, with the other serving as a redundant back-up communication path in the event that the higher priority path is down. Fail-over to the back-up interfaces is automatic. This provides you with the most reliable means of ensuring access to critical remote installations.
Works With Your Existing Monitoring Application Software
The LAN-Cell 3G/4G router supports any TCP or UDP-based networking protocol, so you can use your existing LAN or serial-based equipment monitoring and diagnostic software tools with no changes.
Ethernet-based devices connect directly to the LAN-Cell. Serial-based systems (RS232/422/485) can be easily interfaced with an inexpensive serial-to-Ethernet converter. You can even "mix & match" Ethernet and serial devices using the LAN-Cell's built-in 4 port 10/100/1000 Ethernet switch.
For Windows and Linux based equipment, you can use remote desktop software packages such as PC-Anywhere or VNC to control devices over the Internet. Or use the LAN-Cell's built-in VPN client & server to securely extend your corporate network to remote devices without the need for additional hardware, software or device configuration changes.
---
LAN-Cell 3G/4G Router Advantages
Adds plug-and-play Internet accessibility to remote equipment
Combines user-upgradable 3G/4G cellular modem with state-of-the-art IP Routing, Firewall and VPN
Fine-grained security features "lock-down" remote access to only authorized users & applications
Deploy without impacting remote site network configuration
---
Give Every Field Tech Their Own Router
Proxicast's ultra-small PocketPORT USB-Ethernet Bridge/Router connects a USB modem to any Ethernet capable device for instant remote access. Just plug in your equipment and the modem - no configuration required.

The PocketPORT is tiny, simple to use and easy to carry. Give one to every field technician to enable a temporary connection during site visits or start-ups. Using 2 PocketPORTs in our unique "Virtual Cable Mode" eliminates the need for public or static IP addresses on the cellular modems - your remote device appears to be connected directly to your PC. There is no other device in the world like the PocketPORT!
---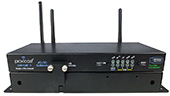 Proxicast's family of wireless and cellular products (3G routers, 4G routers, 3G/4G routers, LTE routers, HSPA+ routers, 3G modems, 4G modems, 3G/4G modems and LTE modems) utilize user accessible and upgradable high-speed 3G/ 4G cellular technology which can support all CDMA & GSM 2G, 3G, 4G cellular modem standards including LTE, HSPA+, HSPA, HSUPA, HSDPA, EDGE, GPRS, EV-DO RevA, EV-DO Rev0, 1xRTT; UMTS / W-CDMA; on all major wireless carriers worldwide including Verizon Wireless, Sprint, AT&T Mobility, T-Mobile, Rogers, Telus, Bell Mobility, Telcel, Orange, Vodafone, O2, Telstra & others. The rugged industrial-grade and ultra-capable LAN-Cell cellular router series offers wired Ethernet, wireless WiFi (802.11 a/b/g/n) and advanced enterprise mobile router features such as multiple IPSec VPN tunnels, NAT/DMZ and more. The ultra-small PocketPORT cellular modem bridge instantly connects virtually any cellular 3G/4G USB modem to any Ethernet device. Proxicast's family of wireless products (3G routers, 4G routers, 3G/4G routers, LTE routers, HSPA+ routers, 3G modems, 4G modems, 3G/4G modems and LTE modems) are optimized for corporate, financial, video surveillance, security, mobile in vehicle applications (cars,trucks, buses, trains,boats), industrial automation, solar power, public transit, Machine-to-Machine (M2M) telemetry and SCADA. Popular applications include mobile video surveillance, construction site monitoring, PLCs and industrial controls, remote device data collection, traffic control, point-of-sale (POS), ATMs, mobile WiFi hot-spots and more. Many of Proxicast's 3G, 4G, LTE and HSPA+ products are excellent alternatives or backup for Low Earth Orbit - LEO (ORBCOMM, Iridium, Globalstar) and VSAT (HughesNet, Starband) satellite network sites.
---