---
Alarm System Communications

Redundant Communication Paths
The Proxicast LAN-Cell 3G/4G cellular router provides two ways to transmit security system alarms back to your monitoring site:
Wired Ethernet - DSL, Cable Modem, etc.
Cellular Modem (3G, 4G, LTE or HSPA+)
Any of these interfaces can be designated as primary, with the others serving as redundant back-up communication paths in the event that higher priority paths are down. Fail-over to the back-up interfaces is automatic. This provides you with the most reliable means of ensuring timely notification of remote alarm events. Use the LAN-Cell when you need secure high availability communications for your critical installations.
Control Communications Costs
The LAN-Cell 3G/4G router can connect any of its WAN interfaces "on demand" when an alarm condition warrants to help keep communications costs low.
Connect Any Alarm System
Ethernet-based alarm systems can be connected natively to the LAN-Cell 3G/4G router. Serial-based systems can be easily interfaced with an inexpensive serial-to-Ethernet converter. You can even "mix & match" Ethernet and serial components such as IP cameras and serial alarm consoles using the LAN-Cell's built-in 4 port 10/100 Ethernet switch.
Once connected, you can also remotely manage the alarm system using any WAN interface via static IP address or Dynamic DNS name.
---
LAN-Cell 3G Router Advantages
Automatic fail-over of redundant WAN connections
Connect multiple system components to one LAN-Cell
Vandal-resistant mounting & antenna options
Deploy a single platform on 3G/4G CDMA & GSM (HSPA/LTE) networks worldwide
---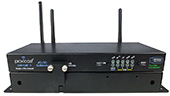 Proxicast's family of wireless and cellular products (3G routers, 4G routers, 3G/4G routers, LTE routers, HSPA+ routers, 3G modems, 4G modems, 3G/4G modems and LTE modems) utilize user accessible and upgradable high-speed 3G/ 4G cellular technology which can support all CDMA & GSM 2G, 3G, 4G cellular modem standards including LTE, HSPA+, HSPA, HSUPA, HSDPA, EDGE, GPRS, EV-DO RevA, EV-DO Rev0, 1xRTT; UMTS / W-CDMA; on all major wireless carriers worldwide including Verizon Wireless, Sprint, AT&T Mobility, T-Mobile, Rogers, Telus, Bell Mobility, Telcel, Orange, Vodafone, O2, Telstra & others. The rugged industrial-grade and ultra-capable LAN-Cell cellular router series offers wired Ethernet, wireless WiFi (802.11 a/b/g/n) and advanced enterprise mobile router features such as multiple IPSec VPN tunnels, NAT/DMZ and more. The ultra-small PocketPORT cellular modem bridge instantly connects virtually any cellular 3G/4G USB modem to any Ethernet device. Proxicast's family of wireless products (3G routers, 4G routers, 3G/4G routers, LTE routers, HSPA+ routers, 3G modems, 4G modems, 3G/4G modems and LTE modems) are optimized for corporate, financial, video surveillance, security, mobile in vehicle applications (cars,trucks, buses, trains,boats), industrial automation, solar power, public transit, Machine-to-Machine (M2M) telemetry and SCADA. Popular applications include mobile video surveillance, construction site monitoring, PLCs and industrial controls, remote device data collection, traffic control, point-of-sale (POS), ATMs, mobile WiFi hot-spots and more. Many of Proxicast's 3G, 4G, LTE and HSPA+ products are excellent alternatives or backup for Low Earth Orbit - LEO (ORBCOMM, Iridium, Globalstar) and VSAT (HughesNet, Starband) satellite network sites.
---